Columns
Arise, awake & lead humanity to the summum bonum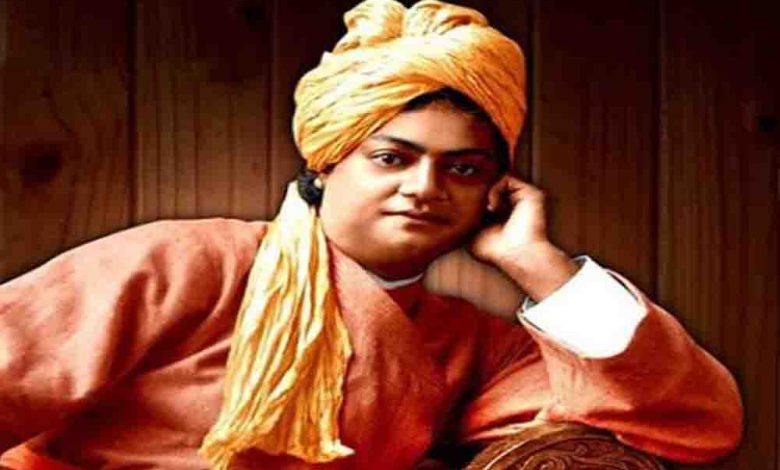 GUEST COLUMN
Ramesh Pokhriyal 'Nishank'
"Sisters and brothers of America", these are the resonating words with which Swami Vivekananda started his speech on September 11, 1893 at the world parliament of religion in Chicago. These lines from India's greatest youth icon show how dear we hold the idea of Vasudhaiva Kutumbhakam. Our leader, prime-minister Narendra Modi pronounced during the 150th anniversary of Swami's address at Chicago; the world would not have faced the 9/11 of 2001 had we assimilated Swamiji's teachings that he shared on 9/11 of 1883. It highlights the relevance of his thoughts and propositions in the current world order.
Today, as we celebrate the 158th birth anniversary of this mystical monk, let us reflect upon his timeless teachings and sagacious sermons. Born on the day of Makar Sankranti, he was a brilliant student, continually seeking the truth. This led him to another noble soul and his guru, Ramkrishna Paramhans. I take this opportunity to bow my head to the Paramhans for crafting Swami Vivekananda for the world.
From Kasardevi in the mighty Himalayas to Kanyakumari in the capacious ocean, he had travelled the country's length and breadth to propagate the principles of tolerance, pluralism and universal acceptance. The real brand ambassador of Indian values, culture, ethos and knowledge system, he had deliberations with scholars across the globe and found disciples all over the world. Be it the west or east he never missed a chance to spread the message of world peace and harmony, scientific-temper and power of concentration as enshrined in the philosophy of Vedanta. His works on Rajyoga, Karma Yoga, Bhakti Yoga and Jnana yoga cover the entire range of spiritual life. Swamiji had a very close connection with the Devbhumi Uttarakhand. He visited Devbhumi five times (1888-1901) for gaining strength, serenity, tenacity and endurance. His five visits are the testimony that he drew some divine energy from Devbhoomi. Souls-like Swamiji are born once in many centuries; his principles and words are seminal for the world. We need to imbibe and implement his rectitude and fulfil his aspirations, not only for our own citizens but the entire world.
The government, under the leadership of PM Modi is committed to this cause. Whether it's ISA, CDRI, skill development, sports, start-ups or recently launched national education policy 2020 (NEP 2020), the ideals of Swamiji are spread across the vision of the government. Being the country's education minister, I would like to emphasise on NEP 2020. The policy's letter and spirit are in sync with Swamiji's conception of access, inclusion, quality, ethics, critical thinking and hands-on approach.
Swamiji wanted an education through which character is built, the strength of mind is increased, intelligence is expanded. NEP 2020 puts great emphasis on it and focuses on character building and creating holistic and well-rounded individuals equipped with 21st century cognitive skills. He opined for a value based education which promotes ideas of universal brotherhood, tolerance, compassion and belief in oneself; NEP envisions to promote morality and constitutional values, respect for others, cleanliness, sympathy etiquette, democratic spirit, sense of service, respect for public property, scientific temperament, independence, responsibility, pluralism, equality and justice. He used to call economically poor as daridra narayan; NEP understands it and suggests provisions for special education zones, national scholarship portal and scholarships for disadvantaged groups. He understood the importance of mother tongue and emphasised that no language can be more appropriate than our mother tongue. On these lines, wherever possible, NEP 2020 is committed to implement the three language formula. It also paves way for the Indian institute for translation and interpretation (IITI) for generating high-quality material in different regional languages. Vivekanand was an advocate of women empowerment, for empowering half of the population NEP 2020 recommends for a gender inclusion fund and better opportunities. He vouched for exchange of the best between the east and the west and mutually among the Indians but not merger or synthesis. NEP 2020 promotes enough scope and space for internationalisation of education while keeping the Indian values. In the NEP 2020 research, teaching collaborations and faculty and student exchanges with high-quality foreign institutions will be facilitated. Campus opening by top international universities in India and vice-versa is also provided in the policy. The recommendations in the policy are reflections of the ideals of Swamiji, to make our young nation a Vishwaguru.
Swamiji had immense faith in the capabilities of young women and men, and he has said that I can transform the world if you give me a hundred committed young people. India is a young 65% population in the less than 35 years of age. To reap our demographic dividend we need to develop the single minded focus in coherence with our beloved Swamiji. We are poised to take the leadership of the world as Vivekanand's vision is the foundation of our world-view and engagements. His spirit still fosters us to arise, awake and lead humanity to the summum bonum. Let us all unite for a more peaceful, congruous and sustainable world. It's high time!
(The author is the Union Education Minister & represents Haridwar parliamentary constituency)
Tuesday, 12 January 2021 | Ramesh Pokhriyal 'Nishank'